Tully Elementary School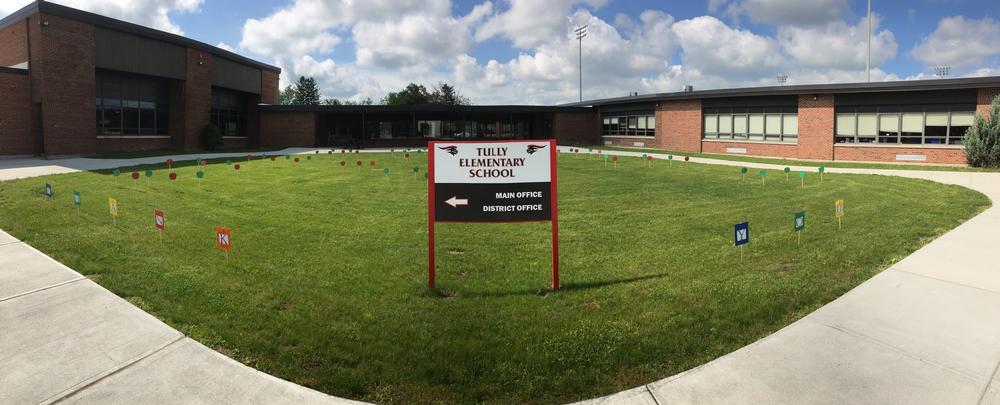 Address
20 State Street, Tully NY, 13159
Suspect Child Abuse?
School News
Safety Awareness with Mr. Wintermute:

Mr. Wintermute, TES's new SRO, has been busy on campus getting to know the kids. In addition to building rapport with them, he is giving them invaluable advice. During the gym classes of the 3rd through 6th graders, he gave a safety awareness speech going over situational awareness, internet safety, and the well-known adage "see something, say something." He feels that students of this age can be aware of things or people that might seem out of place and can help when adults might ...

more >>
Tully Tempos Take on Syracuse Crunch:

The Tully Tempos, comprised of 5th and 6th grade choir students, were invited to sing the National Anthem, opening for a Syracuse Crunch game in January. Whereas some past students have had this fun memory, this was the first time since Covid hit for our students to take on this honorable task. They practiced while in class and then shared their best singing voices with the Crunch team and their rivals looking on. Students performed very well and should be proud of their efforts. Some students ...

more >>
Second Graders Present Animal Projects:

The 2nd graders worked hard this winter with their research projects. Each student chose an arctic animal to research and then watched videos, read slides, and took notes in a graphic organizer. Once they learned lots of neat facts about their animal choice, they put all of their information into a report. They then had a chance to present their report to not only their teacher and classmates, but to Mr. Kupiec as well. All the students learned lots of fun animal facts not only by researching but ...

more >>
Holiday Concert Leads into Holiday Break:

The 5th and 6th grade chorus and band members performed their concert in the TES auditorium the evening before the holiday break. With the weather being bad, it had been rescheduled from the week prior. They did a spectacular job creating holiday cheer for the audience. The band played "Jingle Bells," "Dance of the Jabberwocky," "Still, Still, Still," "Colors of Christmas," and "March of the Magical Toys" with student readers presenting ...

more >>
Students Go Under the Sea at Syracuse Stage:

Several of our students were fortunate enough to attend a field trip to Syracuse Stage to watch an amazing cast put on the production of The Little Mermaid. The 7th and 8th grade students attended a day play while the 5th and 6th grade chorus and band students attended a night play. Regardless of when the students went, they all seemed to enjoy the fun that came with the iconic characters of Ariel, Ursula, Sebastian, Scuttle, Flounder, Prince Eric, and King Triton. While "under the sea," ...

more >>
View more stories >>
Links
Bullying Concerns?
---
Have a Tip?
To send an anonymous tip via text message to the Tully Central School District, text the keyword TULLYCSD and your tip to 847411 or click
here
.