Transportation

CONTACT:
Katie Murphy
katie.murphy@tullyschools.org
Transportation Supervisor
(315) 696-6250

Greg Brewer
gregory.brewer@tullyschools.org
Head Mechanic
(315) 696-6252


BUS ROUTE INFORMATION:

For inquiries, please call 315-696-6250.
Have pickup or dropoff changes? No longer need transportation? Email katie.murphy@tullyschools.org


TRANSPORTATION TO A NON-PUBLIC SCHOOL:

Application for non-public school transportation request.

(Applications are due to the Business Office c/o Jamie Wortley no later than April 1st of each year. The application/request will then be added to the April Board meeting for a decision. Applicants will receive a follow up letter regarding the decision. If approved by the Board, Katie Murphy, our Bus Dispatcher, will reach out to applicant regarding the bus schedule.)

For inquiries, please contact Jamie Wortley at 696-6203.

Tully CSD Business Office
c/o Jamie Wortley
20 State Street
Tully, NY 13159





Bus Safety for All
*Please see the information below to learn more about how to keep our children safe while traveling to and from school:
Crossing Safety
Parent Safety Alert
Passing Motorist Material
Sharing the Road
Pupil Trasportation PSA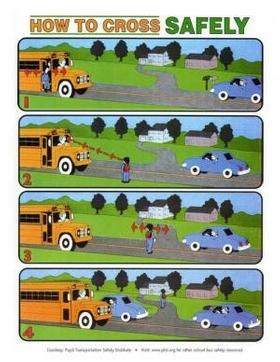 ---

Tully Bus Driver Named Supervisor of the Year in CNY

Katie Murphy, Assistant Dispatcher, Safety Officer, and bus driver for the Tully School district, recently received an award from CNYAPT (Central New York Association for Pupil Transportation) for Supervisor of the Year. Ron Cooper, president of the association, made the surprise presentation to acknowledge her outstanding efforts for the Transportation Department. In addition to being a long time bus driver for the district, Mrs. Murphy is certified as a 19-A examiner and school bus driver instructor who oversees all of the training and ongoing qualifications of every driver. She maintains all of the driver records required by the state and assists in handling dispatching duties. Her cheerful attitude and willingness to help anyone make her a great asset to the transportation team. Great job, Katie!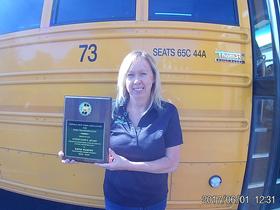 Mrs. Murphy with her award.

_______________________________________________________________________________________________________________________

Tully Bus Monitor Named School Bus Monitor of the Year in CNY

Kim Norton, a long time school bus monitor for Tully Central Schools, was recently honored by the New York Association for Pupil Transportation with an award for School Bus Monitor of the Year. She was recognized for her creativity, as she makes special seat name tags at special times. She was also credited with her kindness and willingness to engage with all students as they make the long ride to out-of-district schools, often bringing books and devices for the children to use. Mrs. Norton brings smiles and laughter to her duties as a bus monitor and it has been said that children riding other buses wish they had Mrs. Norton as a monitor on their routes. She received a special card and some surprises for her efforts. Great Job, Kim!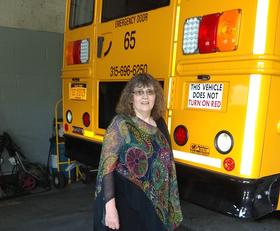 Mrs. Norton in the bus garage.